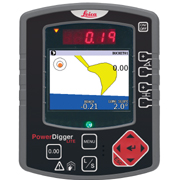 Easy machine control
The Leica PowerDigger Lite control system offers the basic grade control functions operators expect for their routine excavating work. Choose your reference and enter the desired cut and/or slope depth. Final grade and the offset from the bucket edge are displayed on your graphic screen. With PowerDigger Lite you have the flexibility to work from different references such as existing surface, hub, stringline or a laser reference.
The PowerDigger Lite system saves you time and money as you get your job done faster and it eliminates over excavation and downtime to make grade level checks. Difficult tasks as blind cuts or digging under water are far easier with the system as you see the bucket position on your control box display at any time.

System features
Accurate single slope and depth control
3.5" Colour graphic display
Simple menu structure - very easy to use
Remote display supported
100 % waterproof (IP68) – no special sensors or cables needed for underwater use
You can offset your reference surface

Benefits
Increase machine productivity
Graphical cut/fill indication in the cab
Be your own surveyor and save money
No more over excavations
Get done in fewer passes
Increase safety on site. Audio and on-screen warning of buried services with connected EZiDIG sensor (available option)