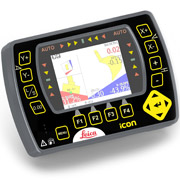 Outstanding performance and flexibility
Leica iCON excavate 31 speeds up any excavating job and increases your digging accuracy and safety on site. The system provides you full control information in the cab, allowing you to create complex designs and profiles quickly and conveniently.

iCON excavate 31 is a fully upgradeable system. You can start with single grade operation and upgrade as needed to a full dual grade system by adding a rotation and tilt bucket sensor to your system. With an additional 3D control box and GNSS sensors you get a highly efficient 3D guidance solution that allows you excavate according to the 3D design model on your panel.

System Features
3.5 " Colour graphic display
Simple user interface with intuitive graphics
Function keys for instant access of important functions
Selectable bucket reference point
Cable-free control box. Easy snap-on/snap off mechanism
Altitude warning – audible warning on selected height, useful for overhead cables and working under bridges and inside buildings.
Interface to EZiDIG Buried Service Detector
PowerDriller drilling function

Benefits
High-accuracy automatic dual slope and level control
Realtime cut/fill indication on the graphic display
No grade checking needed
Maximise your machine utilization and return-on investment by getting right to grade the first time
No more over excavations – dig to planned grade easily and accurately. Save material and fuel cost
Use iCON excavate 31 on multiple machines in your fleet. PowerSnap allows you to interchange
control panels easily and rapidly as needed
Fully scaleable system
Audio and on-screen warning of buried services with connected EZiDIG sensor (available option)
Easy vertical positioning of sheet piles with the unique PowerDriller function